Post by meizzwang on Jan 3, 2019 17:53:58 GMT -5
If it's cold outside for you right now, you have 3 choices:
1) go look at some dead looking Sarracenias in your collection and
pretend
to genuinely get your nerd on. Rotating your hat to the sideways position is optional.
2) Have a seat by a cozy warm fire or heater and read some intriguing insights from Mike Wang about red alata forms. If you're sipping on warm tea or hot coffee, careful! You might get very excited and spill some on your lap (yeah, this thread is that good).
3) Go outside in the freezing cold, look at your dead plants but at the same time, with your electronic device, read some intriguing insights from Mike Wang about red alata forms.
It's your choice.
Everyone tells you to look at the wild for clues on how to grow plants, but what people should tell you is pay even closer attention to your plants in cultivation! What we see in the wild oftentimes does translate to cultivation, but there are many instances where the observations aren't very useful to growers because environmental conditions are significantly different. That said, red color forms of S. alata in the wild are very weird: I've seen populations in the wild where the majority of indivduals have red pitchers in the fall, but then you go back to the same population (almost to the exact same calendar day) a few years later and most of them are green! Red and Dark alatas are definitely mysterious and wonderful! They're practically unexplored in terms of breeding, but a few intelligent growers out there are starting to experiment with them.
From a horticultural perspective, under my conditions outdoors in Northern California, I've observed there are two general types of red alata forms:
1) ones that color up
relatively
easily. Compared to other Sarracenia species color forms, alatas in general are one of the hardest to color up. Anyways, a relatively easy to color up alata clone can sometimes be identified by the presence of lots of anthocyanins on newly opened fall pitchers. They're still kinda greenish at this stage, but red pigments can be found clustering on the outside of the trap and/or dark colors on the interior of the trap are present right when the traps open. Here's a good example of a new fall pitcher that opened on S. alata dark 'upward lid' Stone Co, MS:
And as predicted, the well aged trap turned a beautiful red. This clone consistently colors up for me year after year: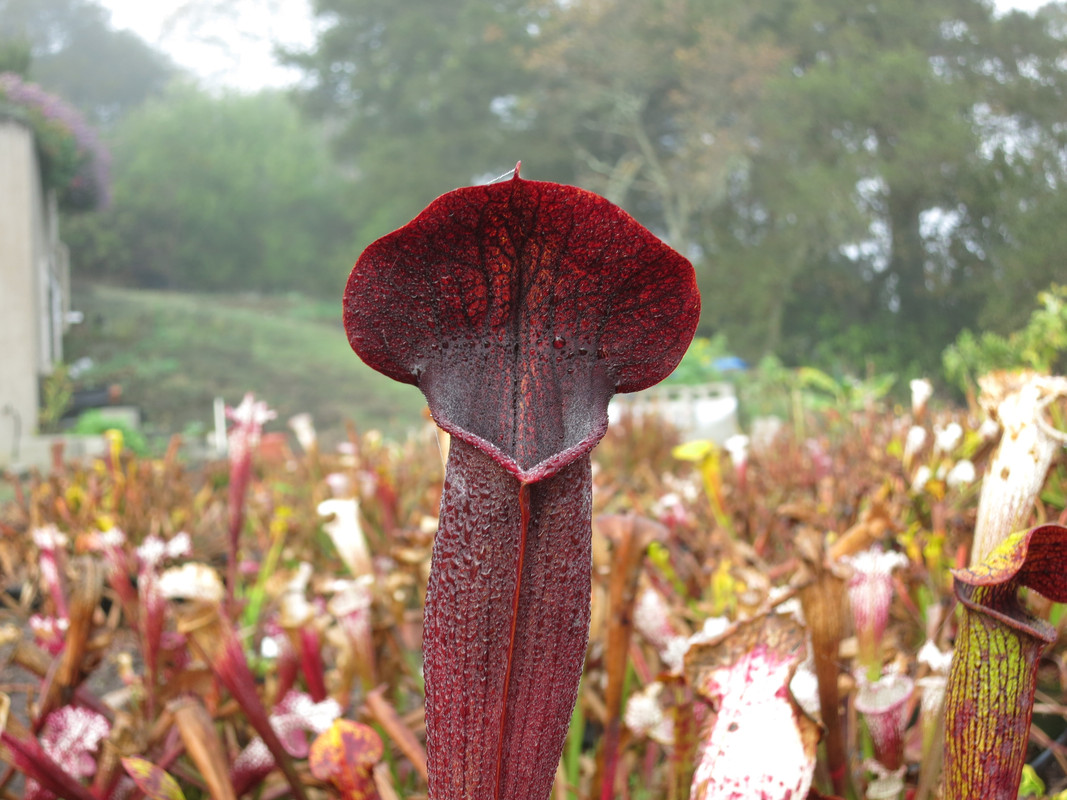 The spring traps on the really dark clones can color up decently even outdoors. Here's the proven S. alata black MKA58 trap in May, notice how dark and dominant the color is in the interior of the traps:
I still don't have a good picture of the fall traps in all their glory, but you'll just have to take my word that this clone can get almost totally black.
2) ones that color up from environmental stress. Good example is S. alata clone A Stone Co, MS. Here's the fall pitchers, pics taken in September. The older pitchers have more red on them compared to the newly opened traps:
And the same exact clone pictured after very cold nights and lots of sunny days. This clone doesn't consistently color up for me year after year:
There are clones that are in between, this pattern isn't black and white.
If you have a greenhouse or you live near Sarracenia habitat/live in an environment similar to Sarracenia habitat, my guess is that all of these forms shown above are much easier to color up under such conditions. However, an alata clone that stands the test of time will color up under multiple different environmental conditions, and this is what I'm S. jonesii'in to find. Also, such a trait will become undoubtedly the holy grail when it comes to breeding.
There's so many different degrees of red out there, and in the wild, it almost seems like that doesn't matter: most of them color up very well. Even plants that have totally green fall pitchers can sometimes turn a beautiful deep red if the conditions are right. Cultivating many different clones of S. alata has taught me that the same concept doesn't apply to my environmental conditions here in Northern California: only the genotypes that are very dark red will consistently color up year after year under optimal conditions. Here's the interesting monkey wrench in the road: even the clones that color up relatively easily in cultivation won't necessarily color up unless the conditions are right. As an example, I had 2 proven clones of black alatas that didn't color up for me for many years.
From a horticultural perspective, when you're phenotype hunting seed batches for those easy to color up indivduals, it's easy for them to elude you. Young plants growing strong don't always color up easy even if it's in their DNA. Transplanting can cause them to green up, dividing can do the same. With plants that have been untouched for several seasons and grown for Jesus Christ of Latter Day Saints (or Alla, or in my case, Chinese Jesus-whichever deity you may pray to, if any) you have to figure out whether the traps turn red as a result of age and environmental factors, or if the individuals are truly red and start off kinda reddish, but then turn very dark red as the trap ages.
With that in mind, let's now take a look at some alatas in the wild. Many of these plants had just started producing fall pitchers, and if what is observed in cultivation is also true in the wild, then the follow comments are what I'd expect:
In this first picture, these are all old summer traps. There isn't enough information present to predict whether this plant can color up easily under a variety of environmental conditions:
This is a somewhat newly opened fall trap. I expect this to color up fully in the wild as it ages:
Newly opened fall traps. I exect this clone to color up in the fall, but not with ease:
Newly opened up fall trap. I expect this clone to get pretty dark as the trap ages under many environmental conditions:
Newly opened up fall trap. I expect this one to easily turn almost black as it ages:
I have no idea what to expect on this "cuprea" as the trap ages:
newly opened, all green trap. I expect this clone to stay green even as the trap ages in most years, unless the environment stresses the plant out:
Newly opened trap. You can tell this one is going to turn black very soon:
Now why did I just spend a few hours writing this? Hopefully, this is eye opening and you'll be a bit more forgiving about the fact that it's taken almost 5 years to get new dark alatas into circulation. Surprisingly, breeding dark red and black alatas doesn't necessarily mean you'll get easy to color up offspring since each individual plant has a different genetic background. However, once you get your hands on a proven, easy to color up dark alata or red alata, it is also the hope that you'll apply the above mentioned findings to your breeding projects and keep these concepts in mind when analyzing the offspring. My guess is outcrosses will have more exaggerated colors, so using the proven red and black clones will give you the best chance in producing the most colorful offspring that consistently color up under a variety of environmental conditions.