Post by krazykinetik on Sept 20, 2016 22:50:25 GMT -5
Hey all! I haven't logged on in quite a while, but I figured since my plants have finally somewhat established at the new house I could post up some pictures of the collection.. I'll start with the outdoor CPs
This is my giant S. purpurea purpurea. got is from Sarracenia Northwest 6 years ago and it could barely fill out a 3" pot.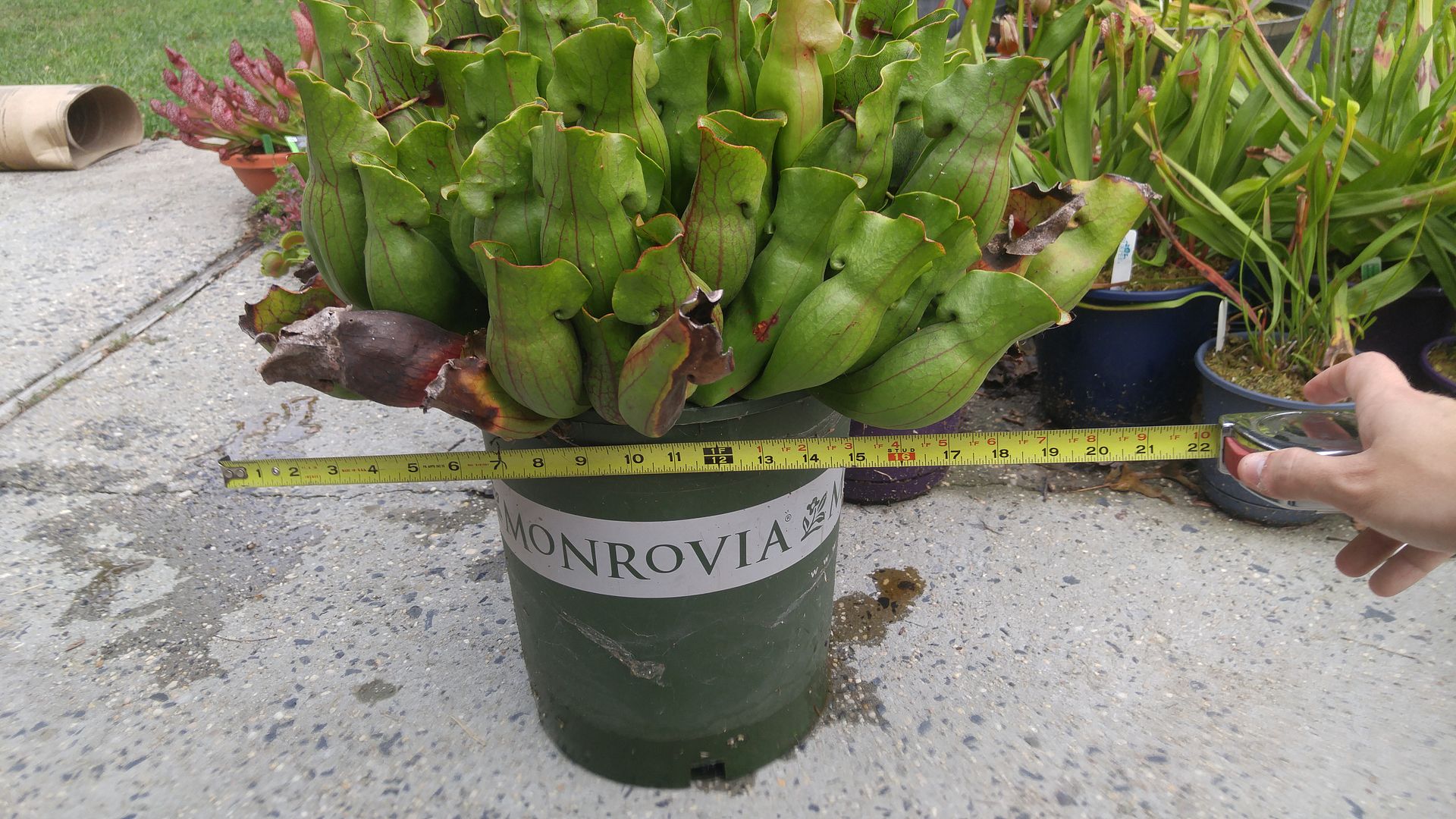 The two smaller pots behind the large on are divisions that were taken of this plant back when everything was divided in March 2016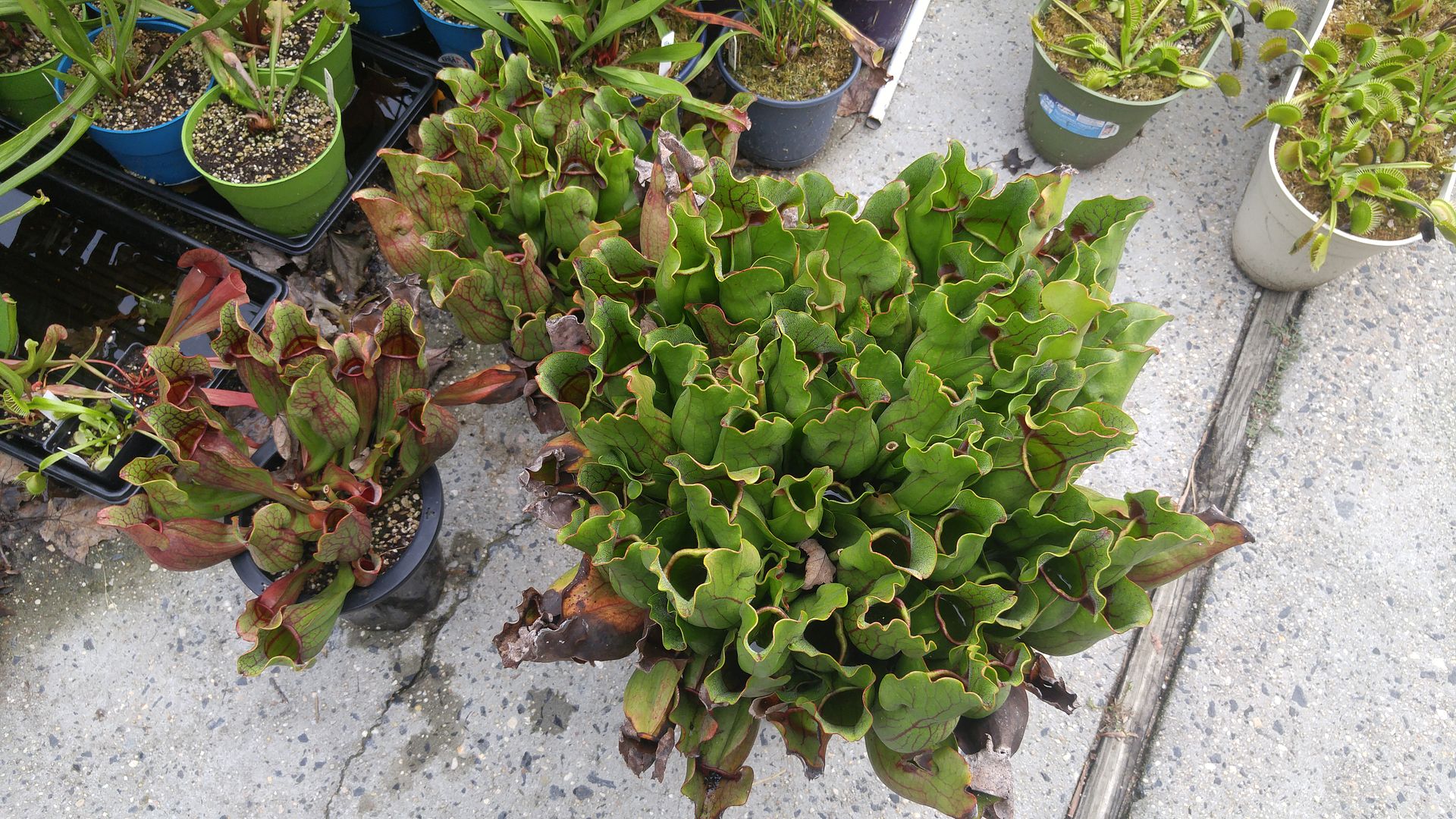 This S. Scarlet Belle was either bought 6 years ago at the same time as the purp or 5 years ago, I can't remember.. Also for Sarracenia Northwest.. First picture is the main plant and the second are the divisions that were taken off of it also back in March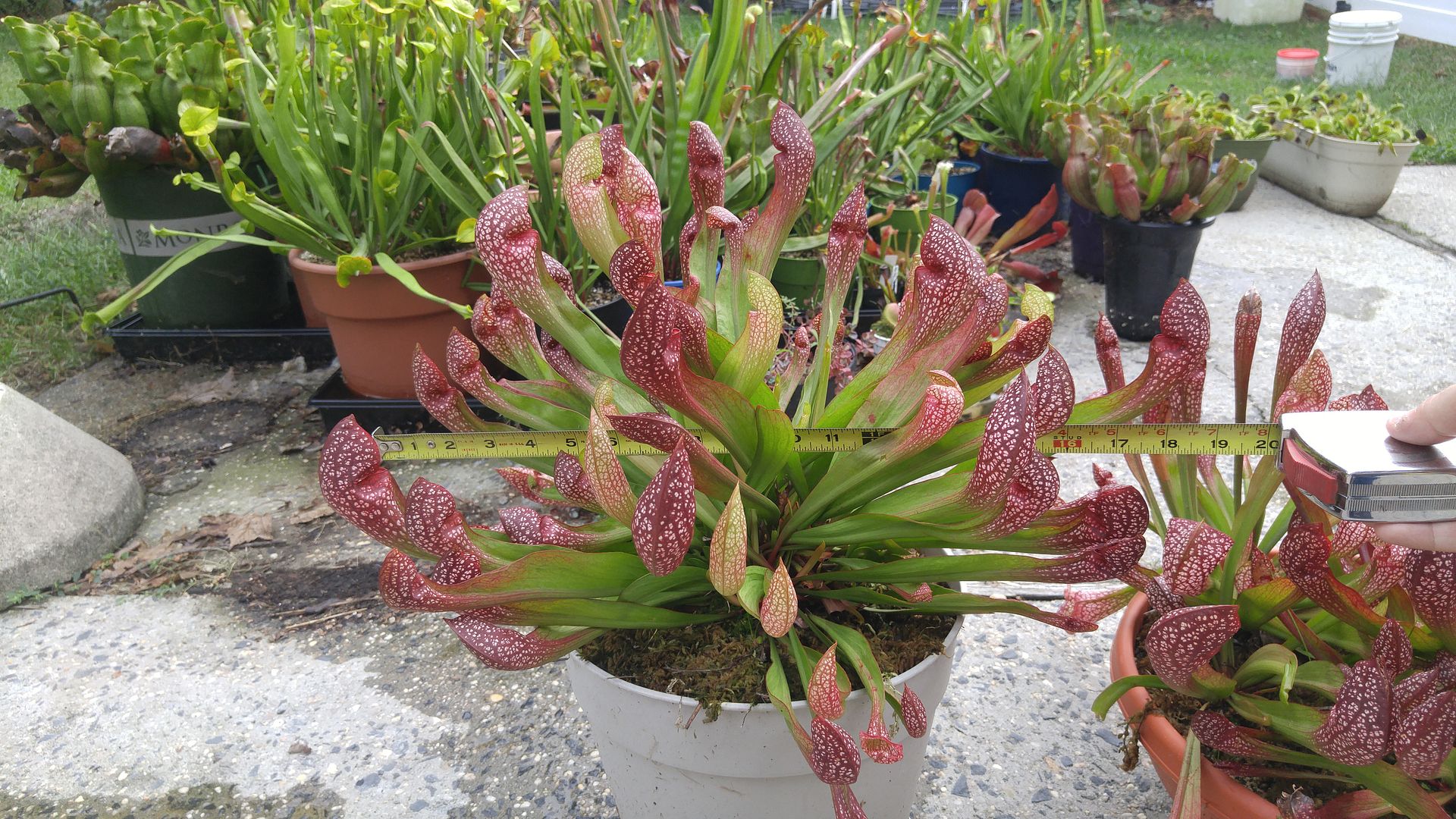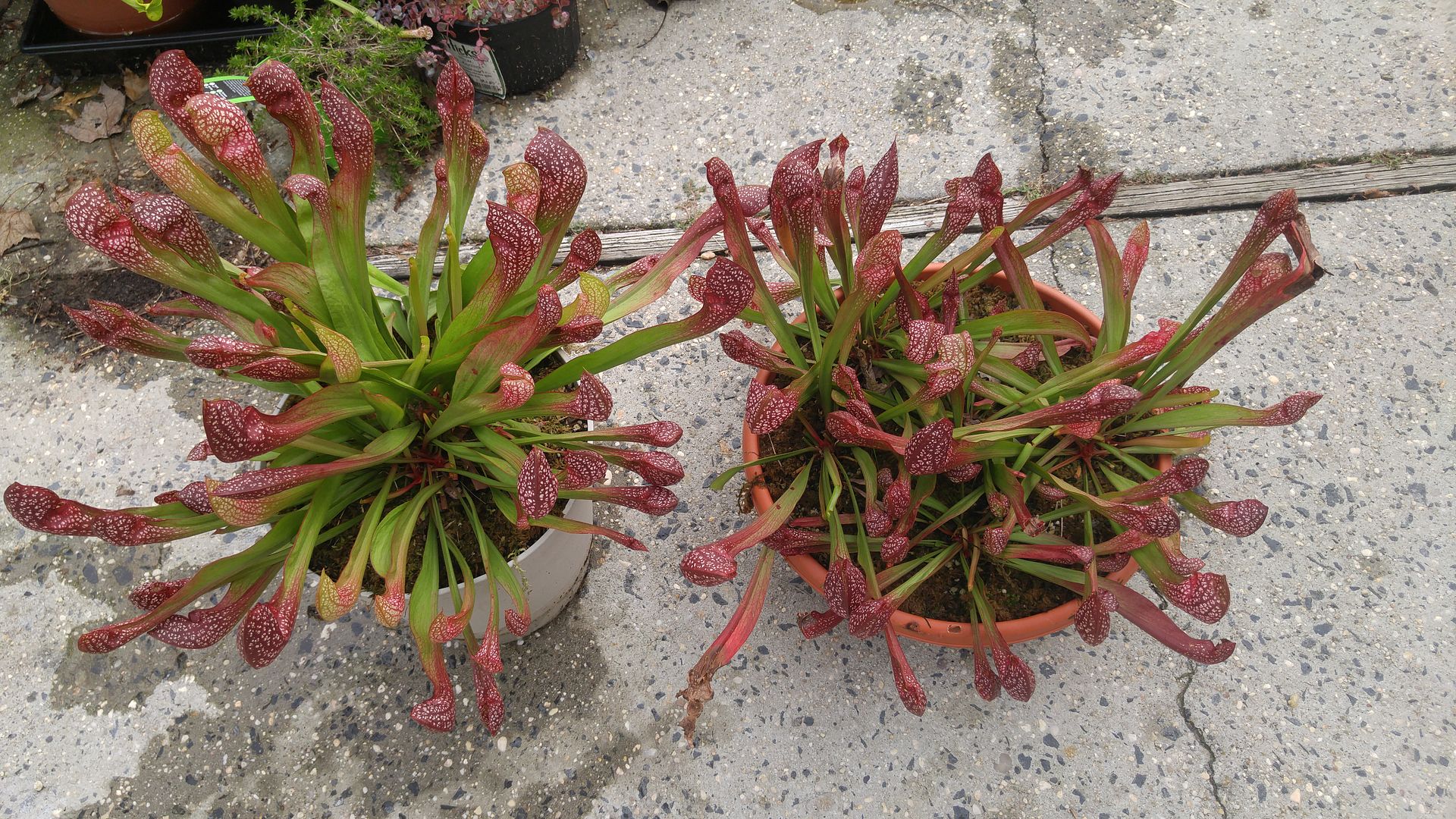 This is a Dionaea DCXL that was purchased three years ago as a single small plant back when they wanted $50 for the smallest plants they would sell.. It came in with three small growths - two died completely, the third was down to a single trap (I guess they weren't happy being transplanted mid season).. Now three years later I have all of these divisions that were taken this year because it was just one massive clump in a 1/2 wine barrel bog.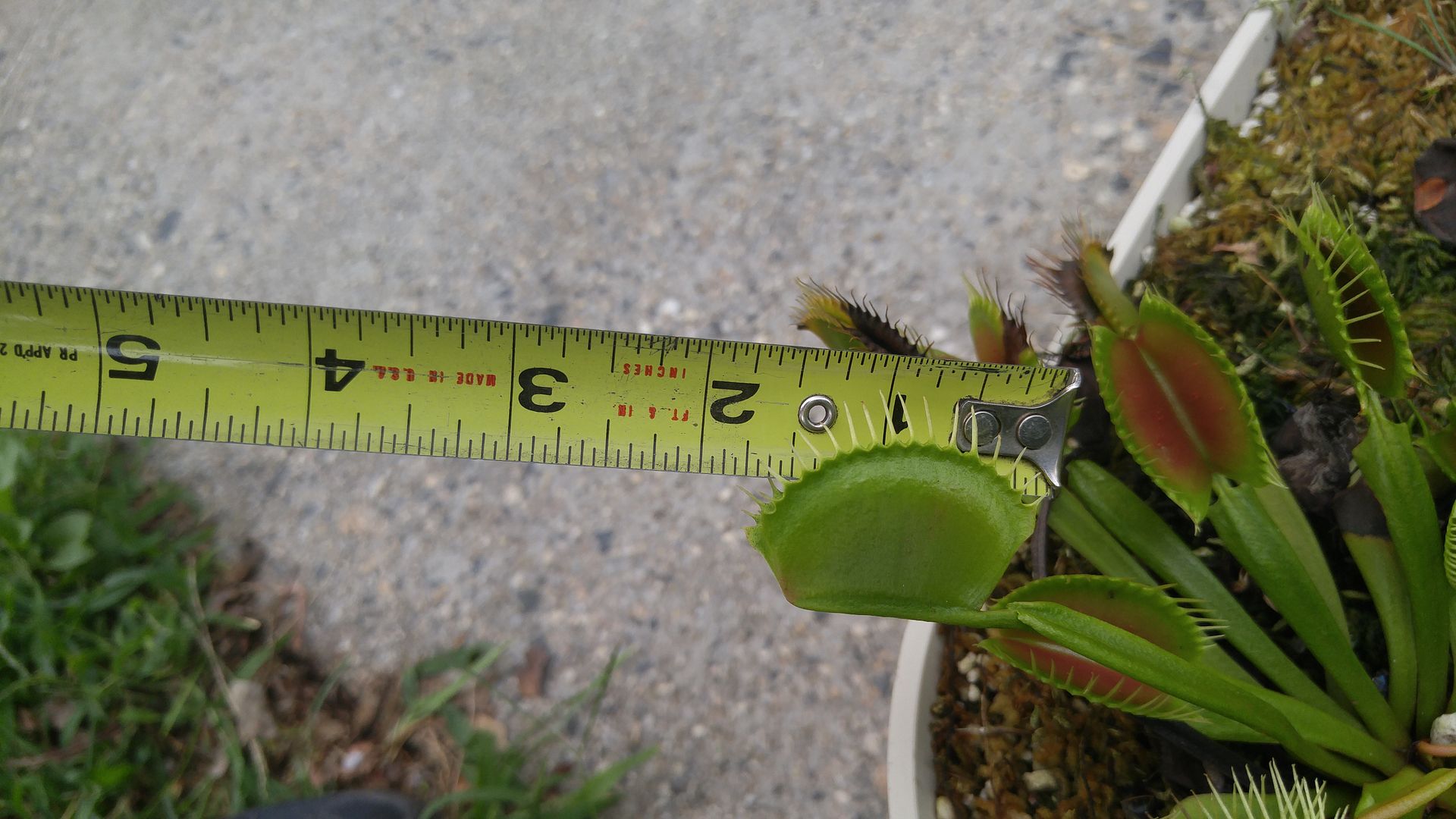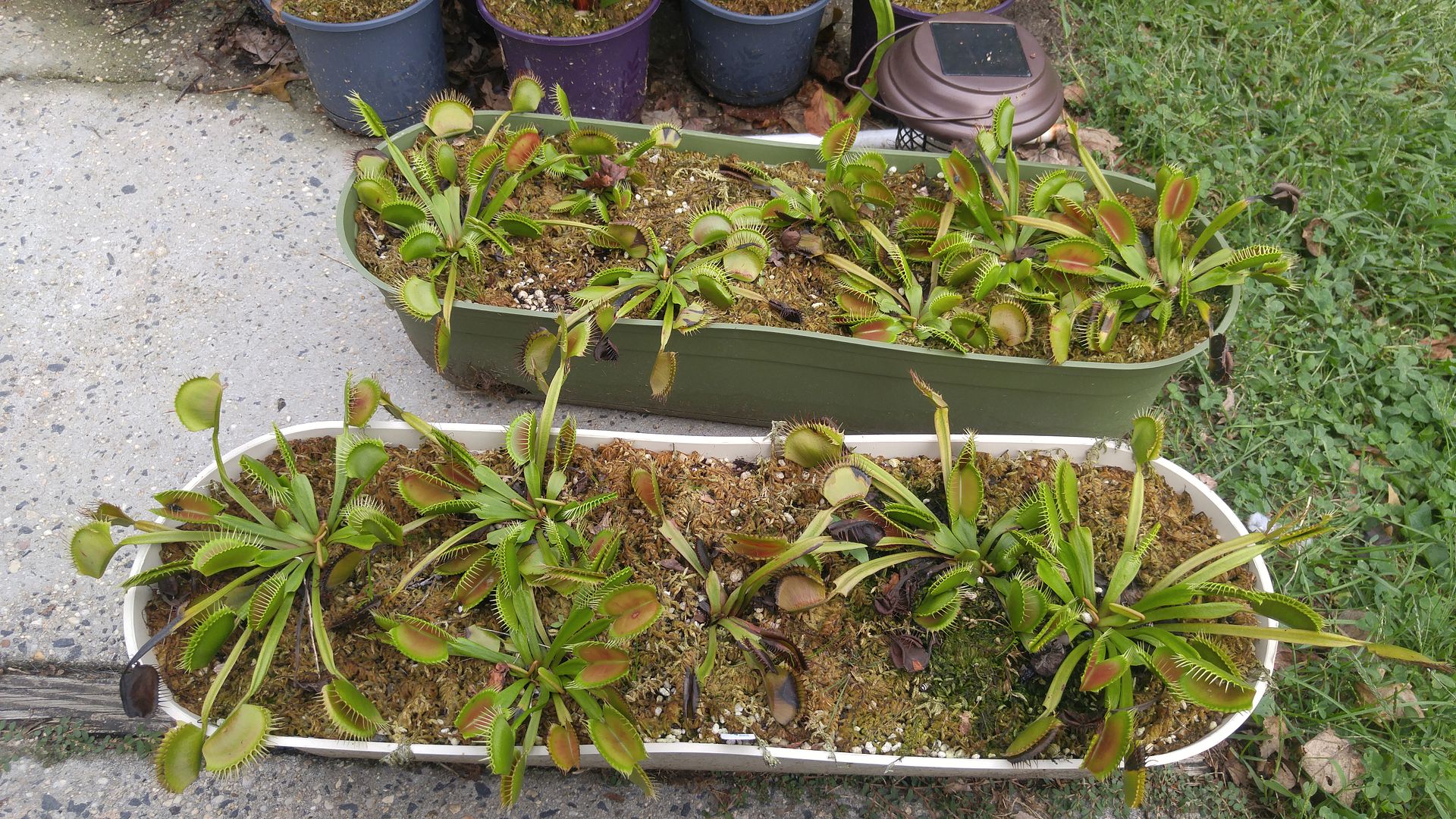 This is the other 'giant' variation of flytrap I have so far - besides a division of B52 that I just received today and need to pot up. Bought this Dionaea Colorado Giant a few years back as one young growth and it has boomed into this massive cluster.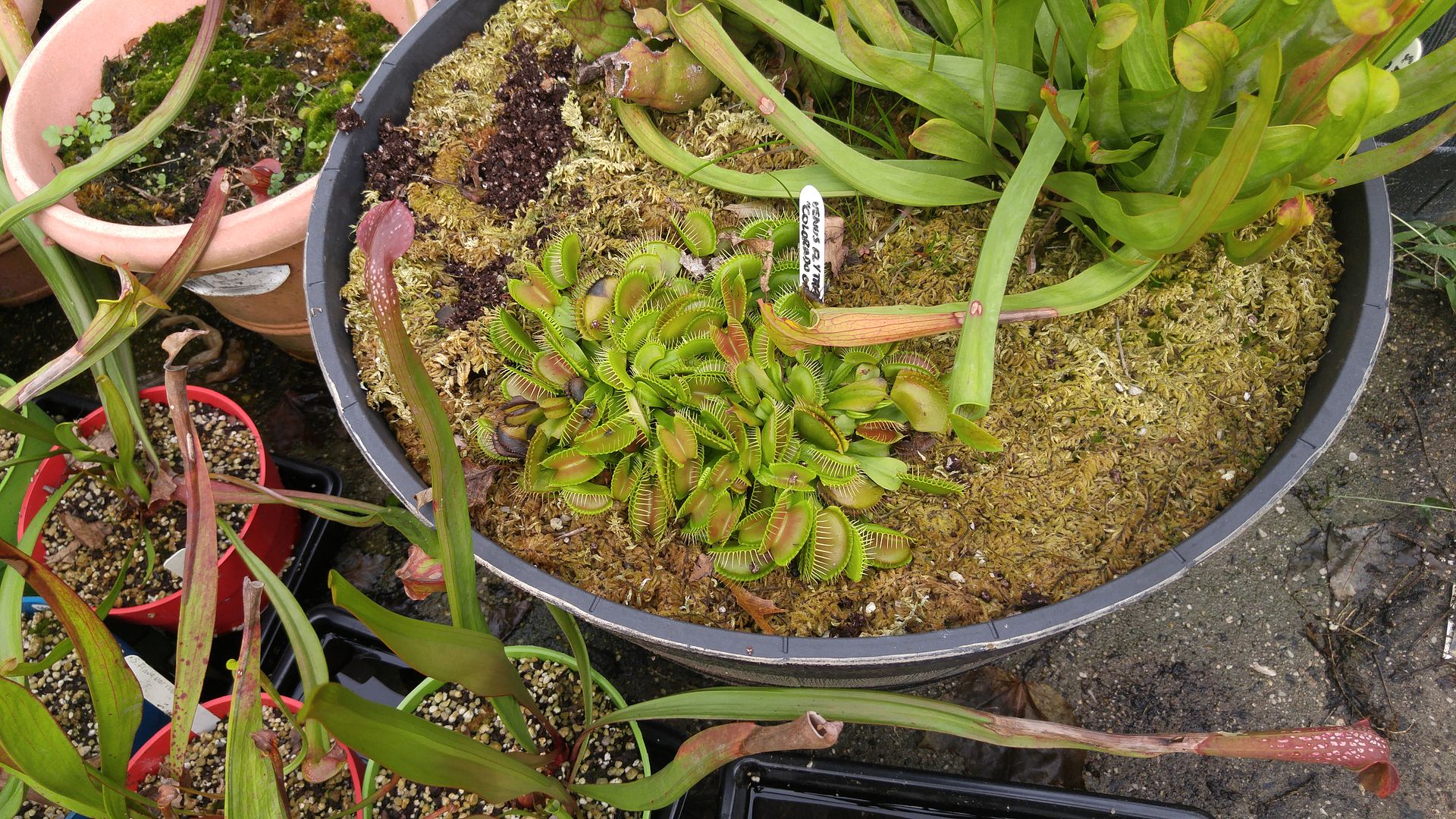 This S. minor var. okefenokeensis clone #4 Ware Co, GA was bought very early this year from our own Mike Wang. It lagged behind quite a bit because our spring started really slow on Long Island and I suppose since it was used to growing in California it wasn't too happy about how cold the spring started out as. So although it only has a couple of pitchers, they're a decent size - about 18"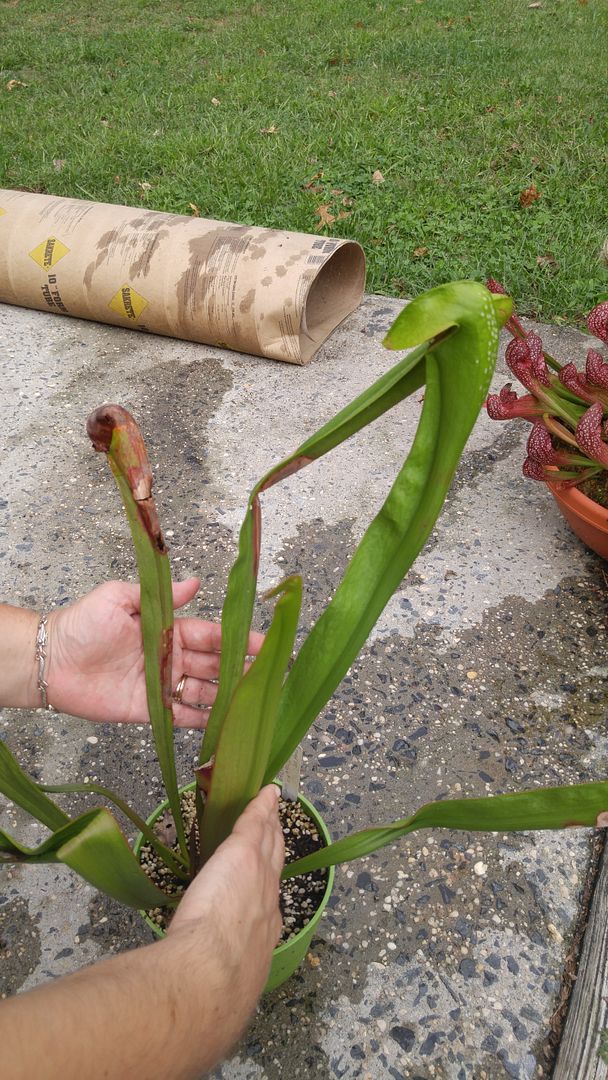 This Antho-free S. psittacina was also purchased from Mike at the same time, along with a few others that ave lagged behind pretty badly, but this plant came in with maybe three growing points I believe? Now I can't even count how many it has this year.. So all in all, the pitchers almost doubled in size and there is at least 12 growing points now so.. I'd consider that a net win as long as it makes it through our winter over here... Plan on putting it in a small unheated greenhouse to shelter it a little bit from the wind and hopefully keep it a little warmer during the day and maybe it will start to come out of dormancy a little earlier than the rest of the plants if it is in there and it can get that long growing season that it wants.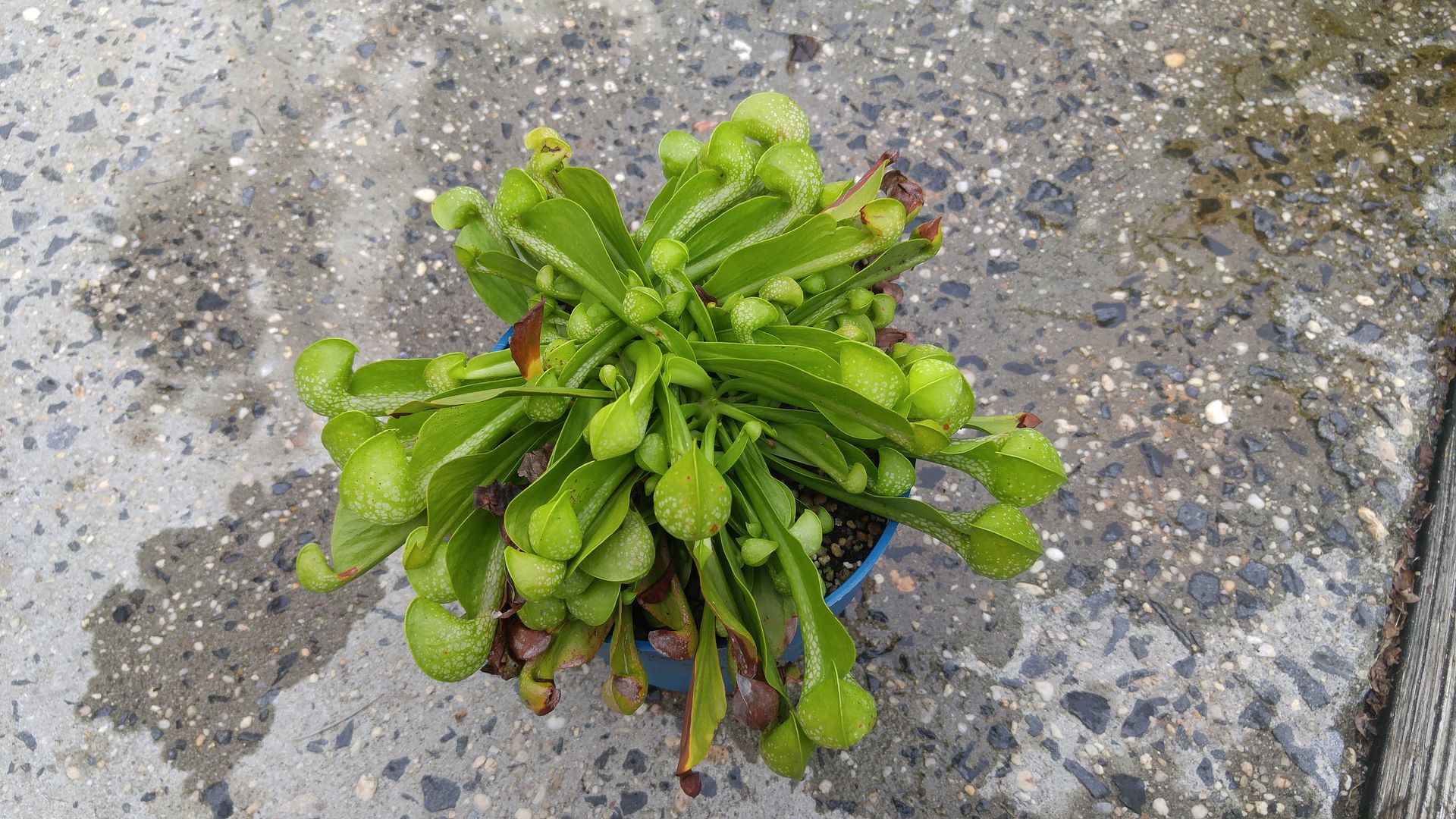 Everything in this bog - besides the S. rubra wherryi sending out the biggest pitcher from this season - seems to be lagging behind because it was all divided this year..
Front left is a S. flava rubricorpora var. red tube from Sarracenia Northwest which apparently didn't like behind divided. The back left is labeled as a S. alata but it looks nothing like an alata... The back right is the Don's Flava which normally would have had pitchers twice the height of that for me and then the front right being the S. rubra wherryi that actually appears to be thriving.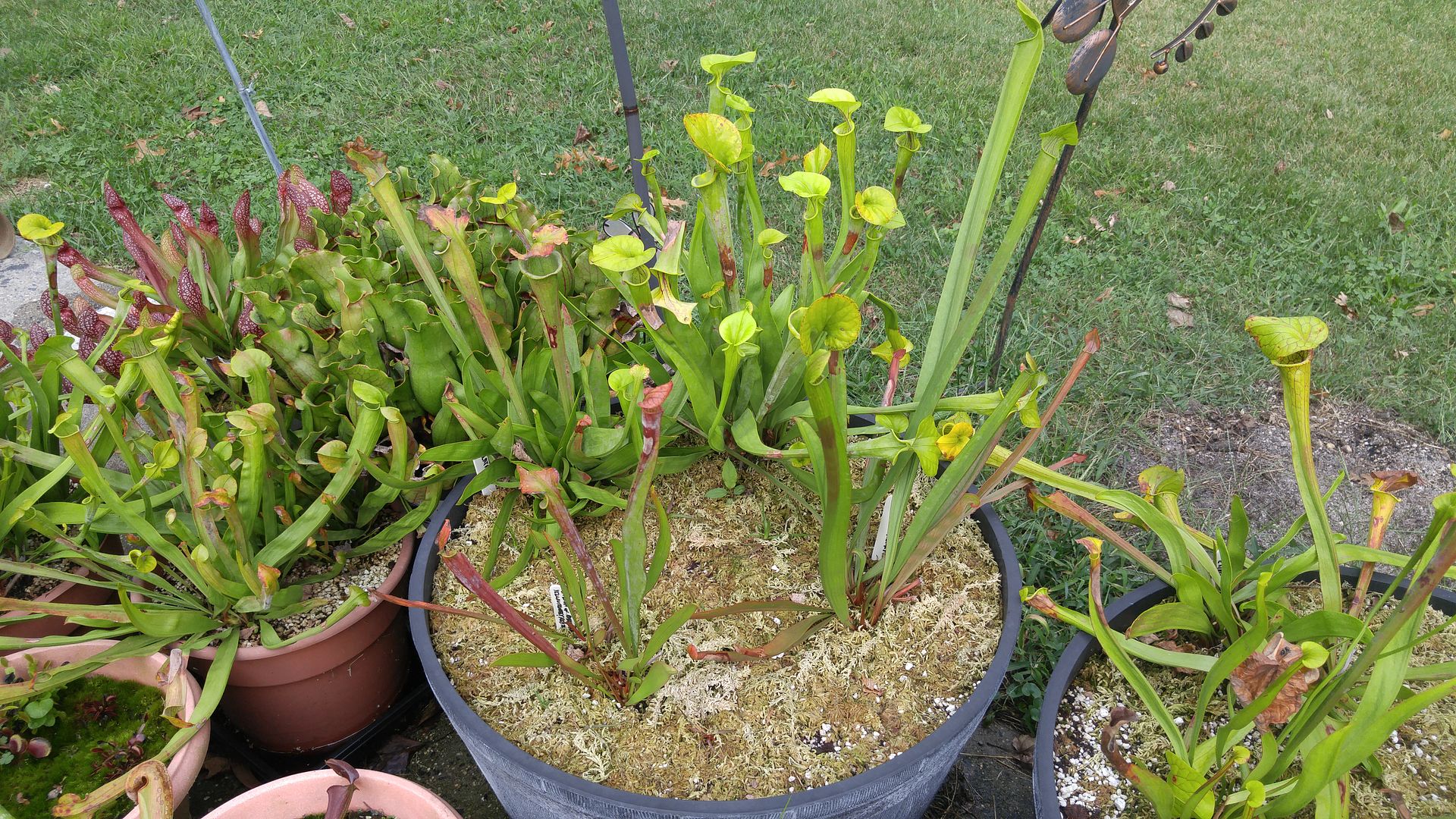 This bog hasn't really seemed to take off all that well this year - again everything was divided, you can see all the small pots in the picture posted down a little bit that shows the whole outdoor collection in one picture..
The giant mess of dead pictures is my S. rubra rubra which none of them are doing well even though they grew so vigorously at the beginning of the season. Front left is S. flava 'AG3' which normally at this point of the year looks pretty good. Back left is S. flava 'Extreme Green' which always seems to lag behind every year - maybe it just doesn't like the conditions on Long Island.. And then the back right sending out its best pitcher so far this year is S. leucophylla 'Big Mouth'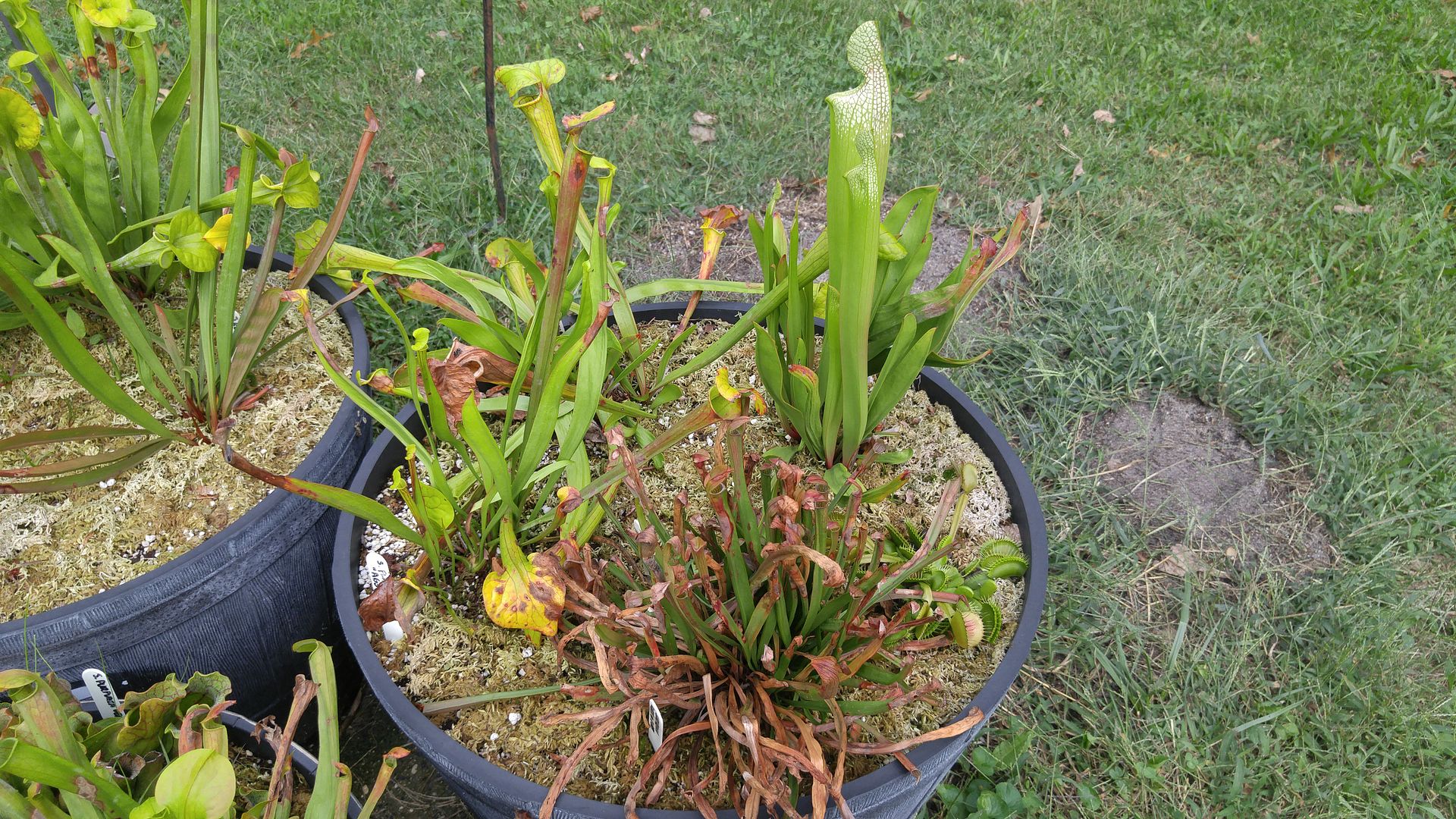 I'm hoping that this S. Black Widow that was bought from Mr. Faulisi this year perks up more next year. It was purchased mid growing season and it probably liked it over in California quite a bit more than here since as you can see the pitchers that came up after it was delivered here didn't really become all that black... Except for the phylodia that it sent out so... Wasn't expecting that?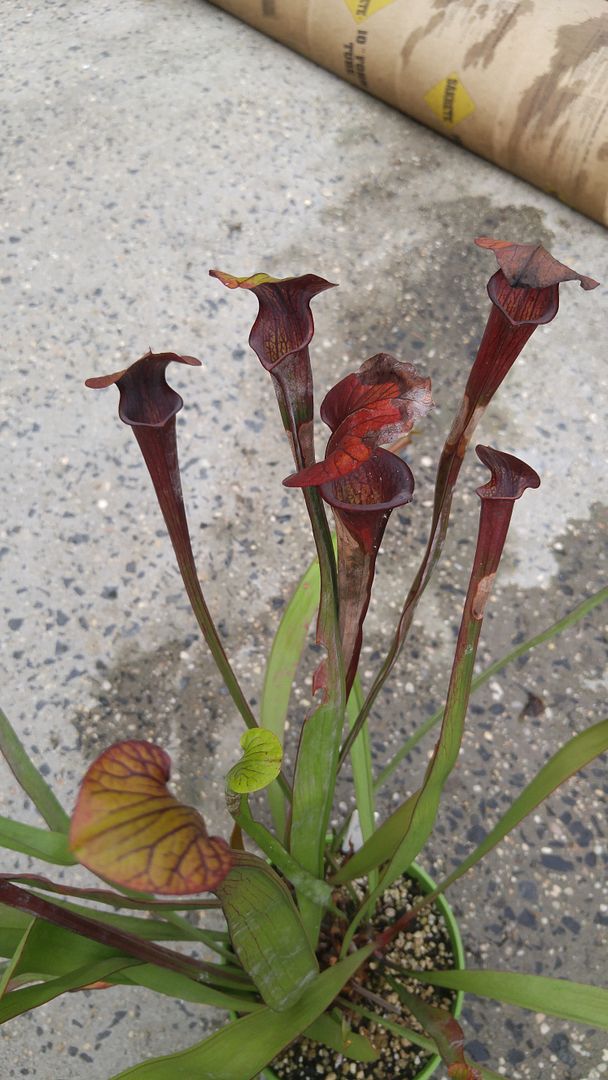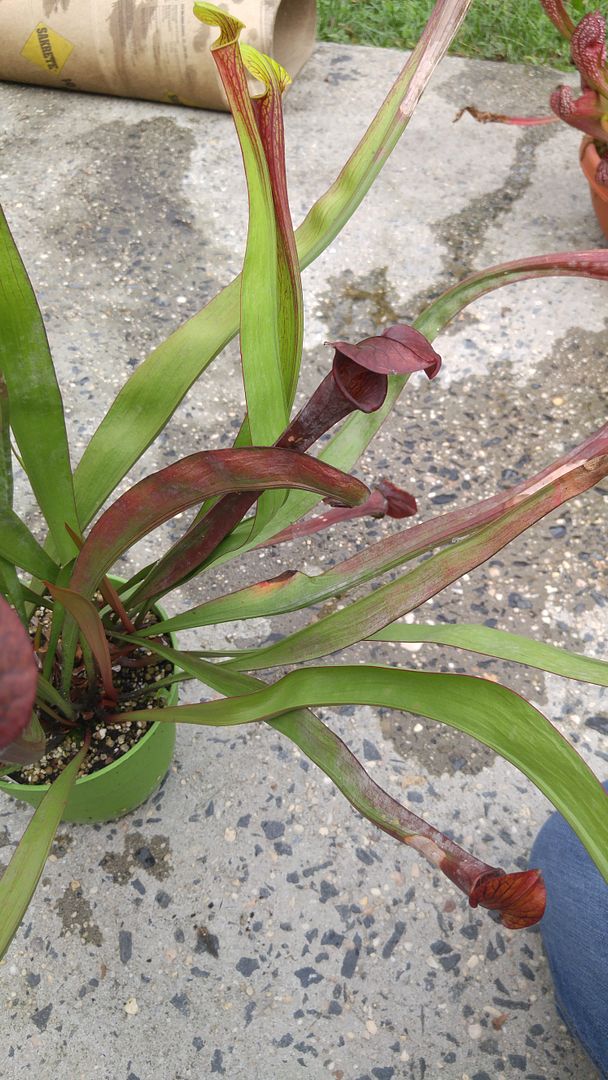 Another purchase from Mike Wang that actually did relatively well for the first year being over here was S. flava 'Improved Black Veins'.. No huge pitchers this year, but definitely nice veining for getting adjusted to the conditions over here!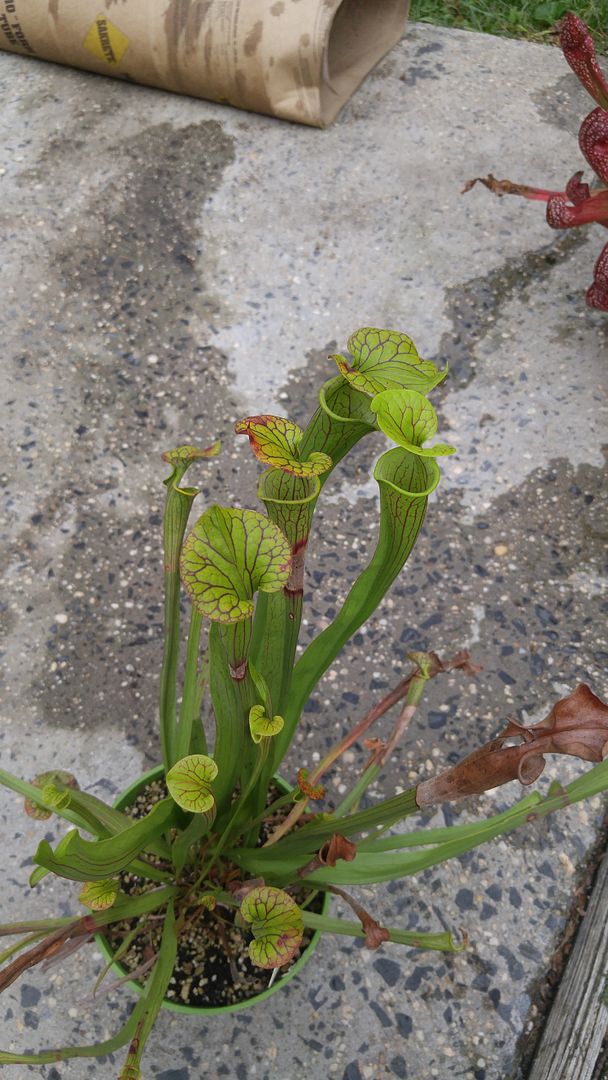 This is a wide shot of everything that is growing outside right now - I didn't show pictures of quite a few leucophyllas and a couple of minors because they've all been kind of lagging this year because they were either divided this year or I just received them at the beginning of this year - basically all from California so the growing conditions over here are completely different.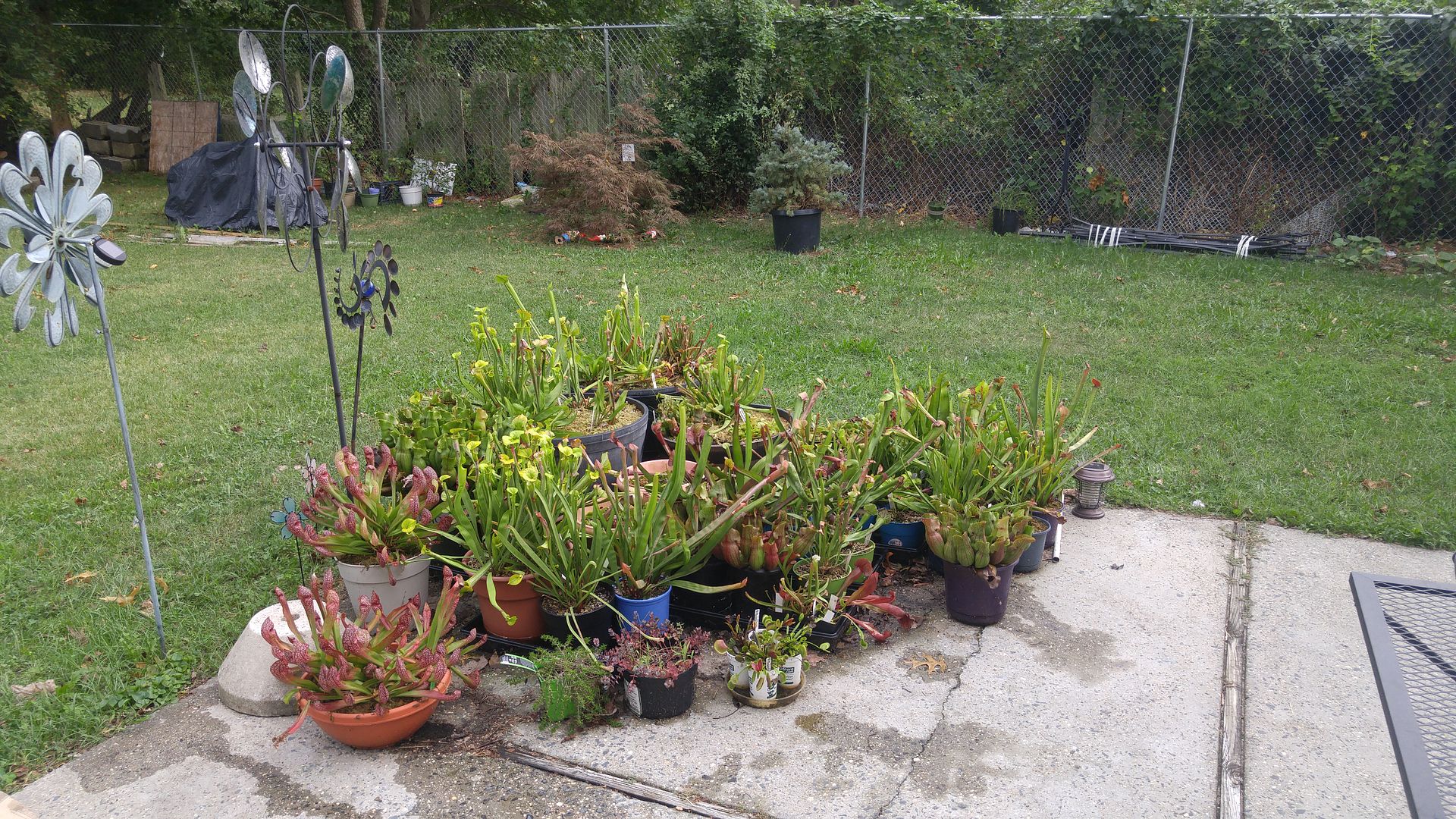 Thanks for taking the time to view my outdoor collection, hoping to become a more active part of the community and eventually expand my collection and start hybridizing my own plants down the line.... Have a great day all!