Post by dpowell on Jun 15, 2020 20:15:32 GMT -5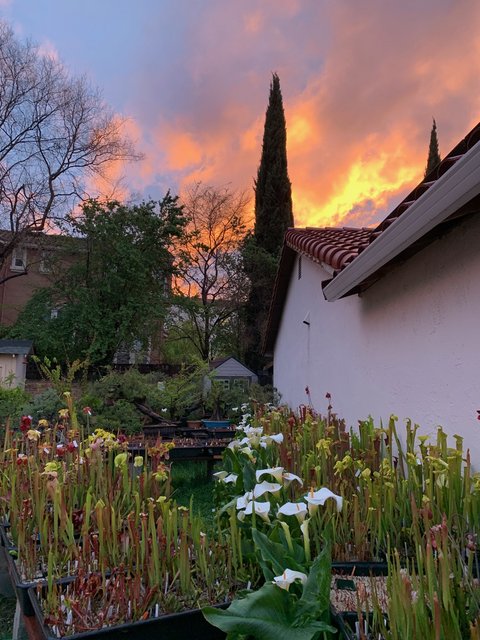 Updated -4/27/21
I'll do my best to keep this list up to date, but please email to confirm availability, danny@dpowellphoto.com
For more information and my most up to date list with more info and pictures please see here:
docs.google.com/spreadsheets/d/1Inov0xj6jaJJRwVvGpsvPUmlsMzTeGqkjrFQObx37ro/edit#gid=0
All plants are grown outdoors in the SF bay area (Mediterranean climate) unless otherwise noted. I ship bare root, charge actual cost for shipping, and ship with pitchers intact.
Divisions
alata Dark Streak WaitList
alata Night $30.00
alata nigrapurpurea A26 $50.00
alata purple helmet $30.00
flava atropurpurea Liberty Co $50.00
flava Cinnamon Tube $50.00
flava Extreme Red Throat $35.00
flava ornata Gulf Coast x Black Veins $30.00
flava ornata "Improved Black Veins" $60.00
flava rubracorpora agristats x flava ornata Catalani Clone $45.00
flava rubracorpora Liberty Co Clone L x Best Clone $40.00
flava rugelli C X A $35.00
flava rugelli Liberty Co Select - MW $20.00
leucophylla AF Andrew Marshall Wild $30.00
leucophylla Franklin Co AxB $40.00
leucophylla Red (Wilkerson Red Rocket x Franklin Co. Clone B) $40.00
leucophylla Titan $35.00
leucophylla f.viridescens $20.00
leucophylla Wilkerson Red Rocket WaitLIst
Oreophila are California sales only - no exceptions
oreophila North Sound $35.00
rubra rubra Long Lid $25.00
Ares $60.00
Black Widow $70.00
moorei Bouquet $100.00
Hot Lips Wait List
Isabelle $40.00
John Rizzi $50.00
Magenta moorei $75.00
Moorei (lpl x fo) Clone B $80.00
Rasberry Rhapsody $50.00
Rep Rose x lpl "Phil's Red Form" $75.00
Royal Ruby Waitlist
Serengeti Sunset $50.00
Spatter Pattern $100.00
Stingray $50.00
Willow Creek $40.00
Areolata Flop Top $60.00
Black Widow x (Royal Ruby x flava ornata) $75.00
Catasbei x alata black throat $35.00
(leucophylla Burguny x minor Giant) "Pink Clone" $40.00
leucophylla Redneck x flava atropurpurea F280 A $50.00
leucophylla Juju Lips x Flava WideMouth $35.00
mitchelliana Baldwin Co $40.00
(OSMT x flava) x redman $40.00
Seedlings


These are unique seed grown clones. This designation does not necessarily represent size, but rather if it's a unique plant or a division of an established clone.
All seedlings have gone through multiple culls and I keep only the nicest, most vigorous plants.
flava ornata Black Veins x Catalani $35.00
leucophylla purple lips x leucophylla Mesa Exotics $40.00
leucophylla TAHBWG x NOEP C $35
(alata x purpurea) x alata $40.00
alata Dark Steak x Flava Kimber Red Ruffles B $20.00
Areolata "White Knight" x Adrian Slack A $35.00
Ares x Monster Cat B $40.00
Bloodmoon x Ruffled Sparkler $35.00
Catasbei $30.00
Chinook x Raven $35.00
Doreen's Collosus x Alucard 1 $35.00
flava rubricorpora x Royal Ruby $30.00
Leah Wilkerson x Hot Lips E $40.00
(Leuc x courtii Pink Dots) x prometheus $40.00
leucophylla "Purple Lips" x flava ornata killer I $30.00
leucophylla "Purple Lips x Legacy E $40.00
(Oreophila Sand Mountain x flava) x mitchelliana $25.00
rosea x flava rubracorpora "Liberty County naczii" $30.00
Royal Ruby x Oreophila "North Sound" A $30.00
Saurus x flava atropurpurea D $35.00
Savannah Jewel x Ares $40.00
Scarlette Belle x Prometheus $35.00
Wizzleberry Toad x Saxpaahaw $35.00
Bletilla Striata $20.00