Post by meizzwang on Oct 3, 2018 17:15:30 GMT -5
I'd like consolidate this discussion and take it a bit deeper than what's already been said on this forum. Okay fellow
GEEX
, if you prefer hardcore nerdy stuff instead of drinking booz in the parking lot with your homies on a friday night, then by all means, keep reading! (although if you're over 21 or of lawful age, nobody says you can't do both).
This thread is meant to discuss the origin of many different color forms in the genus Sarracenia. I probably won't cover them all right now as none of them have been thoroughly explored, but there are two main species that have been observed long enough that we can start talking about them: S. leucophylla and S. flava color forms.
Origin of Sarracenia leucophylla COLOR Forms
There are 3 main hypothetical ways S. leucophylla color forms originated:
1) mutation
2) sexual reproduction (ie. hybridization and subsequent back crossing).
3) a combination of both
To clarify what I mean by color forms, I'm referring to S. leucophylla var. alba, S. leucophylla Red forms, and the pink forms. The common pattern that is developing as we breed with these plants suggests that the original hybrid cross and subsequent back crosses intensify the white, pink, and red pigments. But did the original hybrid cross or multiple crosses and back crosses create color forms?
I believe that most, if not all leucophylla albas, are also of hybrid origin. Whoa there Mike Wang, hold on a second, I don't buy this one bit, Hurricane creek whites come from roseas? Well, keep reading....
Let's take S. leucophylla Hurricane creek white as an example. Check out how bulbous this thing is, this is AxF select:
Now let's take a look at this S. rosea x leucophylla baldwin Co, AL. Look at how dominant the white pigment production is on this clone! Compare the bulbous shape of this hybrid to the AxF clone:
Let's look at this Hummer's Hurricane creek white clone #1 and compare it to mitchelliana Baldwin Co, AL:
As Calen has also observed with the same exact cross:
sarracenia.proboards.com/thread/4250/hurricane-creek-white-select-blush
a consistent expression of red pigments shows up in hurricane creek white AXF. Under my conditions, these red pigments fade away as the pitchers age, which suggest the expression isn't dominant. This clone doesn't always produce these red pigments
Are you starting to see some obvious patterns yet? I agree that this information alone isn't enough to substantiate the hypothesis, but once this entire thread is made, all of the evidence looked as a whole merits consideration. But back to the origin of hurricane creek white, the hypothesis is that S. rosea interbred with leucophylla and "enhanced" the expression of white pigments as it continued to back cross to S. leucophylla many generations down the line. So does this mean that all leuco albas arose by crossing with rosea? Nope.
Take a look at S. leucophylla var. alba from Washington Co, AL. There are a few characteristics in the albas that suggest distant and perhaps even recent hybridization with S. alata:
1) S. alata shares the same habitat with S. leucophylla, and primary hybrids are abundant in the wild.
2) Many S. leucophylla var. alba clones from Washington Co, AL produce significant early spring, summer, and fall traps, much like S. alata. Populations of S. leucophylla, such as individuals from Southern Baldwin Co, AL, are more reluctant to pitcher up with spring and summer pitchers under similar environmental conditions.
3) many of the pure looking S. leucophylla var. albas, such as this one below, have yellow flowers mottled with a little bit of red in them. This mixed flower suggests hybrid ancestry:
4) Some of these albas just straight up have alata shapes:
Switching gears, I suspect most, if not all red variants of leucophylla are of hybrid origin somewhere down the line. Some are so far "removed" from the original hybrid generation that they breed true, so you won't see much segregation in the offspring. In simpler terms, breed with them, the leucophylla look and red genes are locked in and you'll get mostly pure looking leucophyllas with mostly red colors (ie. Wilkerson's Red rocket).
S. leucophylla 'DARK RED' Covington Co, AL, on the other hand, has a lot more obvious hybrid features because it seems to have crossed with another species (likely S. flava var. rugelii) in recent generations: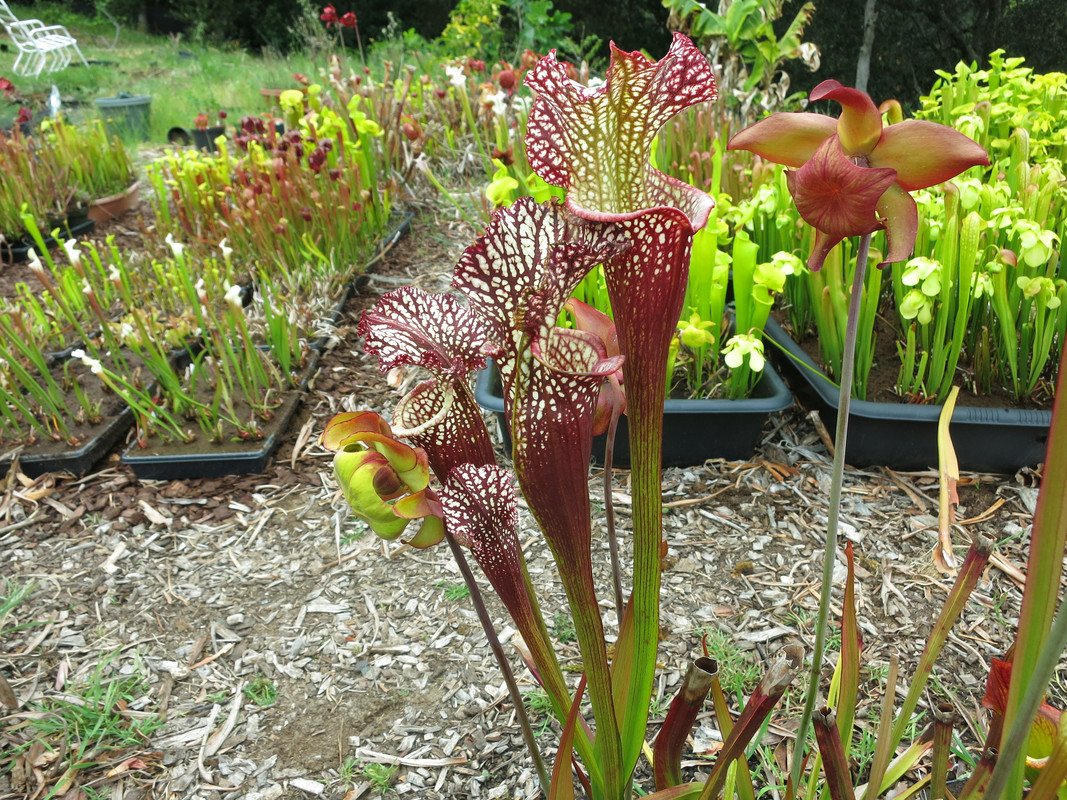 This is what I'd like to call a primoridal hybrid, meaning it's the "early" generation leading up to pure looking red leucophylla forms. When this dark red clone is with various other red clones that breed mostly true,the offspring segregate and you get mostly dark red plants, but a few golden ones and regular looking leucos. The color didn't come out well, but the lid on this thing is golden. Even if you can't see the actual color, compare the color of the other siblings in the background:
When leuco DARK RED is crossed with wilkerson's red rocket, the red variant is the dominant phenotype in the offspring. If leuco DARK RED is a "primordial" ancestor to the red variant, this observation is signficant, as it suggests that subsequent crosses with other leucophylla clones will yield more red plants that look more and more like pure s. leucophylla. Of course, the reality of how these formed is much more complicated because there are likely so many other factors involved.
The observations presented above, along with hcarlton's observation of the dark red clone's flava-like behavior to not produce fall pitchers:
sarracenia.proboards.com/thread/3739/leucophylla-dark-red-covington-al
is enough to convince me that this dark red plant is of relative recent hybrid origin. Each piece of evidence alone isn't enough to justify the hybrid origin theory, but again, put them all together, and you'll see a very solid, strong pattern emerging.
The pink leucophyllas are a bit more complicated because it's hard to hypothesize what species interbred with it to create it. Was it rubra wherryi? Was it S. psittacina? Was it S. moorei? How about S. rosea? Or was it multiple species?
For sure, we can see the following traits on some pink leucophylla clones:
1) Yellow flowers blushed with red pigments in the petals:
Note: I'm not sure how to explain this, and not all pink leucophyllas have yellow flowers).
2) more cilia on the exterior of the pitchers, which suggests S. rubra wherryi could be involved. To make things more complicated, not all pink leucophyllas have unusually larger quantities of cilia on their traps.
What I've described so far is an over-simplified explanation of this hybrid origin hypothesis to get you thinking about how these color forms all came to be. Were there some other "steps" involved in the formation of S. leucophylla hurricane creek white? Did the alba form already exist via mutation, but then subsequent hybridzation enhanced the colors? Was S. leuco DARK RED the result of crossing a S. leucophylla RED x S. moorei, and the moorei enhanced the red color, but wasn't the origin of the red pigments? Nature is very dynamic, and most of the times, it's much more complex than what meets the eye, but to comprehend these things, we have to look at them piece by piece, then analyze the entire big picture as a whole. There are more questions than answers when it comes to the origin of the pink leucophyllas, but we'll get a bigger picture of it once we continue to breed with it and find more patterns that suggest its hybrid origin. This post alone doesn't contain all the observations I have, and I'll likely edit this and add more information in the future. I'm just getting tired of typing!
Seriously, if you followed this entire thread, dude, Yer a
NERRRRRRD
!!!!! To be continued with a discussion of flava color forms and variants!