Post by meizzwang on Jun 18, 2018 13:13:31 GMT -5
Okay, this thread is to iron out that whole thing regarding this fake S. oreophila clone (which from here on out I'm calling S. oreophila imposter) that is rampantly being circulated as the real deal S. oreophila! It's even in Europe now and people are mistaking it left and right for a real S. oreophila! It's very important to not perpetuate such imposter clones for several reasons:
1) this imposter clone can potentially ruin breeding efforts
2) this imposter clone can be mistakenly sold as the real deal S. oreophila, and that seller can have their reputation ruined once the buyer realizes they got a fake plant. The seller could be completely unaware of the fact that they are selling an imposter clone, so don't be quick to judge!
3)mostly reason #2: ruined reputations, even if the seller isn't intentionally trying to be shady and drama. People unknowingly get sucked into this. Here's a good example of where mislabeling a plant can take a turn for the worst:
sarracenia.proboards.com/thread/3961/leah-wilkerson
4)disappointed collector who realizes they didn't get the real deal!
Now that we got that all explained, Here's a picture of S. oreophila imposter. I believe this is a picture from one of our members, so if you don't want it posted here, please let me know and I'll take it down.
Here's Calen's photo of S. oreophila imposter-notice the color under the lid: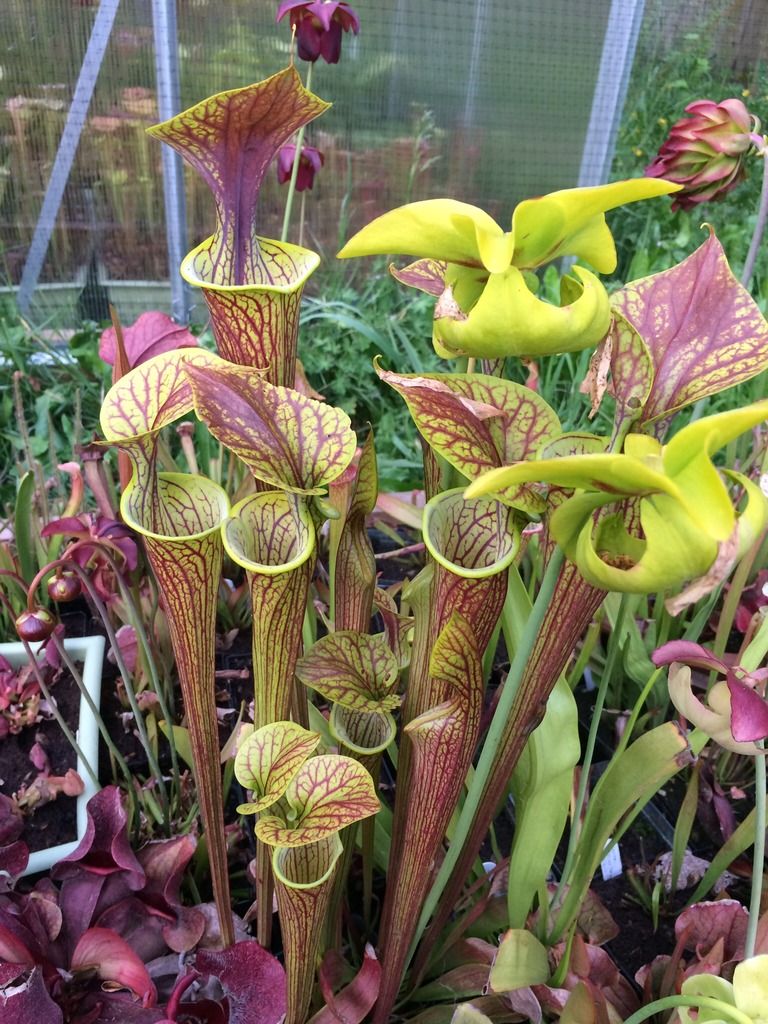 Calen made a thread about S. oreophila imposter here:
sarracenia.proboards.com/thread/3222/ersatz-oreophila
If this isn't S. oreophila, what is it? After reflecting on the history of this plant, as well as doing some google lurking, my hypothesis is that it's S. flava 'heavy veins' x oreophila or the other way around (oreo x flava) How did I come to this conclusion?
1) My homie Drew Martinez sent me some S. oreophila imposter x flava var. ornata 'black veins' seeds a few years back. I sowed them in a pot and have neglected them since. After looking at them this past weekend, I noticed some interesting pigments accumulating under the lid on a few individuals (but not all of them):
2) Now come take a look at this S. flava 'heavy veins' clone. I believe the heavy pigment formation is a recessive trait, as it's very uncommon. This is very likely a carolina flava:
3) assuming oreophila imposter is an F1 hybrid (flava x oreophila) and the black veins flava is a selfed plant (verified), you'd expect segregation in the offspring if you crossed the two plants. In other words, you'd expect to see all sorts of different phenotypes emerge when crossing an F1 with an F2: some with just heavy veins, some with heavy veins and red under the lid, some with lighter veins, some with something in between. This is exactly what's pictured in example#1 of this thread. The red under the lid in this cross is very unique, and I suspect the only clone that has this trait that could have been in the hands of someone on the east coast many years ago is this heavy veined flava.
4) After doing a quick google search, my suspicions are even more firm after seeing that Wimb from the following link calls it S. flava heavy veined form x oreophila:
nargs.org/forum/sarracenia
So next time you think "I dunno man, that plant you're calling an imposter looks like a pure S. oreophila to me" you'll now fully understand and appreciate why we are very confident S. oreophila imposter in fact a hybrid.